I have worked as a labor and delivery nurse with this beautiful mama for quite a few years now, and she is just beautiful inside and out. Nikki is so great at documenting their lives and truly values capturing them in both video and images, right down to details. She is a blogger as well with great tips and ideas for things from traveling with your kids, to great cooking and shopping ideas. She recently blogged about her first birth story. She is just an incredibly smart and talented person all around!
When I made the decision to rebrand into birth photography and films Nikki wasn't even pregnant yet but I put the bug in her ear anyway that if they were to get pregnant I wanted to document it for them. I was so ecstatic when I found out they were expecting and were willing to let me be there to document it all. She filled out her questionnaire and we talked about the moments that were most important to her and Prentyce in images and video clips, and we were all eager and ready for the arrival of her little guy. I had taken a chunk of time off the first week of June to be available for both her birth and another one I had booked. I was a nervous wreck thinking I might of timed it wrong, as you know, newborns have their own timing.
When you book me as your birth photographer I am 'On Call' for you from your 37th through 41st week of pregnancy. That means when you call no matter what time of day, I will be there. I have my bags packed and ready to go for that phone call. I also have my moms make sure their husbands or significant others have my number so that they can contact me, sometimes that is much easier in the midst of labor.
On a Sunday morning June 3rd I got a text from Prentyce saying they were at the hospital and they were admitting Nikki. The timing was so perfect, it was amazing! I was able to arrive just as active labor was starting and was able to document some really great moments during their labor.
I was able to document their birth story in both video and images, be sure to scroll down after enjoying their birth story film, to view images from Tytan's arrival.
Nikki had come in in labor and had been dilated for a couple of weeks. She knew she wanted an epidural before her bag of water was broken and so that was an early priority!
I love watching dads during labor and the birth of their children, there truly is no more tender moment for me, it just melts my heart every time. Especially when dads are just so great and supportive, and involved. Prentyce is such an amazing father and you can just tell he adores Nikki. They are just such a beautiful couple.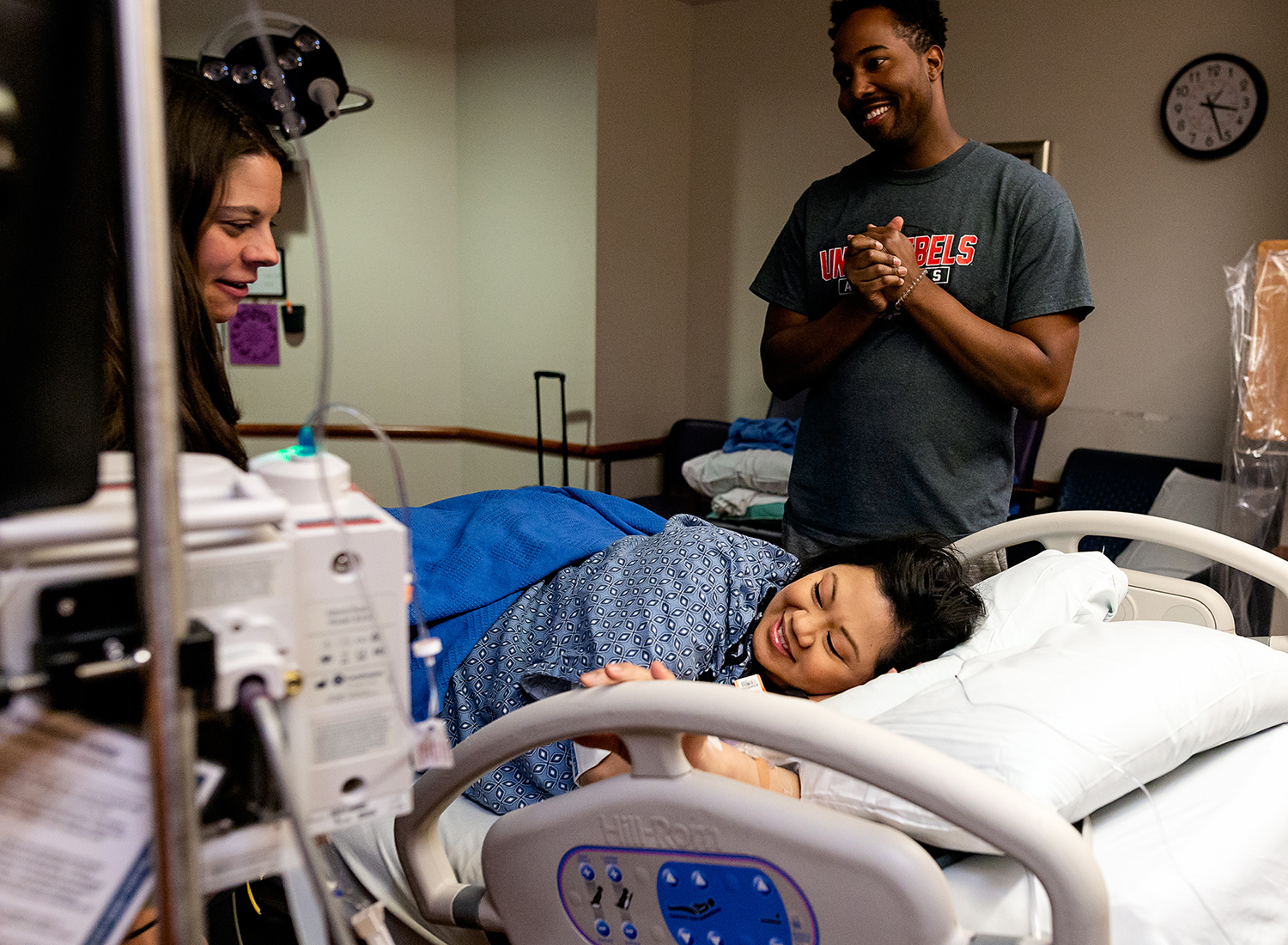 Baby's heart rate became a little worrisome as his arrival approached, luckily they had a quick labor and before you knew it Dr. Wurm was on the unit for delivery. Their last baby was a big one and they were worried this one  would be as big or even bigger.
Nikki really wanted to document big brother Nikko meeting his new baby brother, so I hung around to be sure to capture that. It was so sweet and tender, initially Nikko wasn't too sure about his new baby brother and seeing his mama in that strange bed and clothes, but he had sure warmed up to him by his newborn session, so be sure to stay tuned for that!
And of course, when you deliver at the hospital you work at, the whole floor is basically cheering for you during your whole labor, they were so excited to finally come in and meet little Tytan.