One of my favorite things about documenting births, newborns, and their families, is that I often I get to go on to document so many of those major milestones within the first year, and as their families grow! I am so thankful to the families that have stuck with me past their newborn sessions and trusted me in documenting life's most memorable stages!
That first year is truly so fleeting. Between adjusting to your newborn's sleep and feeding schedules, being sleep deprived, and the busyness of being a parent, it just truly happens that you blink and time has flown by. I think this is why I really am so passionate about this period of time. There are so many firsts over that first year; first feedings, rolling over, crawling, walking, talking, etc. Those little personalities start to emerge and are so apparent early on.
Not everyone is able to invest in sessions throughout the first year, and I do tell my parents that if they are going to invest in anything I do recommend newborn, when they are sitting independently, and then that first year. The sitting stage is definitely one of my favorites. This generally happens between 6 and 7 months with each baby being a little bit different in hitting this milestone. They have most often times not really started to experience that 'stranger danger' and basically think everything is hilarious. This works out great for me because I think I am hilarious and when anyone else jumps on board with that, it makes my day! Babies are usually pretty squishy and so expressive at this age as well, so I tend to get a ton of adorable images in a very short period of time!
This family has been so great at documenting Graham's first year and we have been mindful in using the same spaces and color schemes to really show off his growth over this period of time. I just love their home, it is so full of beautiful natural light streaming in, it is just perfect.
I recommend scheduling these sessions during your baby's happiest time of day, which usually falls early to mid morning and right after nap. I will often times have parents let me know when their baby has gone down for a nap so that I am ready to arrive shortly after they awake. Although they are so hilarious and adorable at this age, they are also pretty vocal about when they are done with me and my camera. I tend to get about 45 minutes at this stage, and I will never push a child past his/her comfort level. As I said, I almost always get a tone of expressive and adorable images at this age in such a short period of time!
Great spaces to use for your newborn and milestone sessions are your bedroom. It is such a great spot to cozy up on the bed and adds such a natural and relaxed feel to your images. It is comfortable, and adds the element of your own style to your images!
Your baby's nursery is another great spot to use in your home. Grahams nursery is so adorable! I just love his neutral theme and color scheme!
I really recommend waiting until your baby is sitting independently for this stage, even if that is past the six month mark. Being able to safely step away from your baby and documenting them sitting just adds so much fun and personality to your session!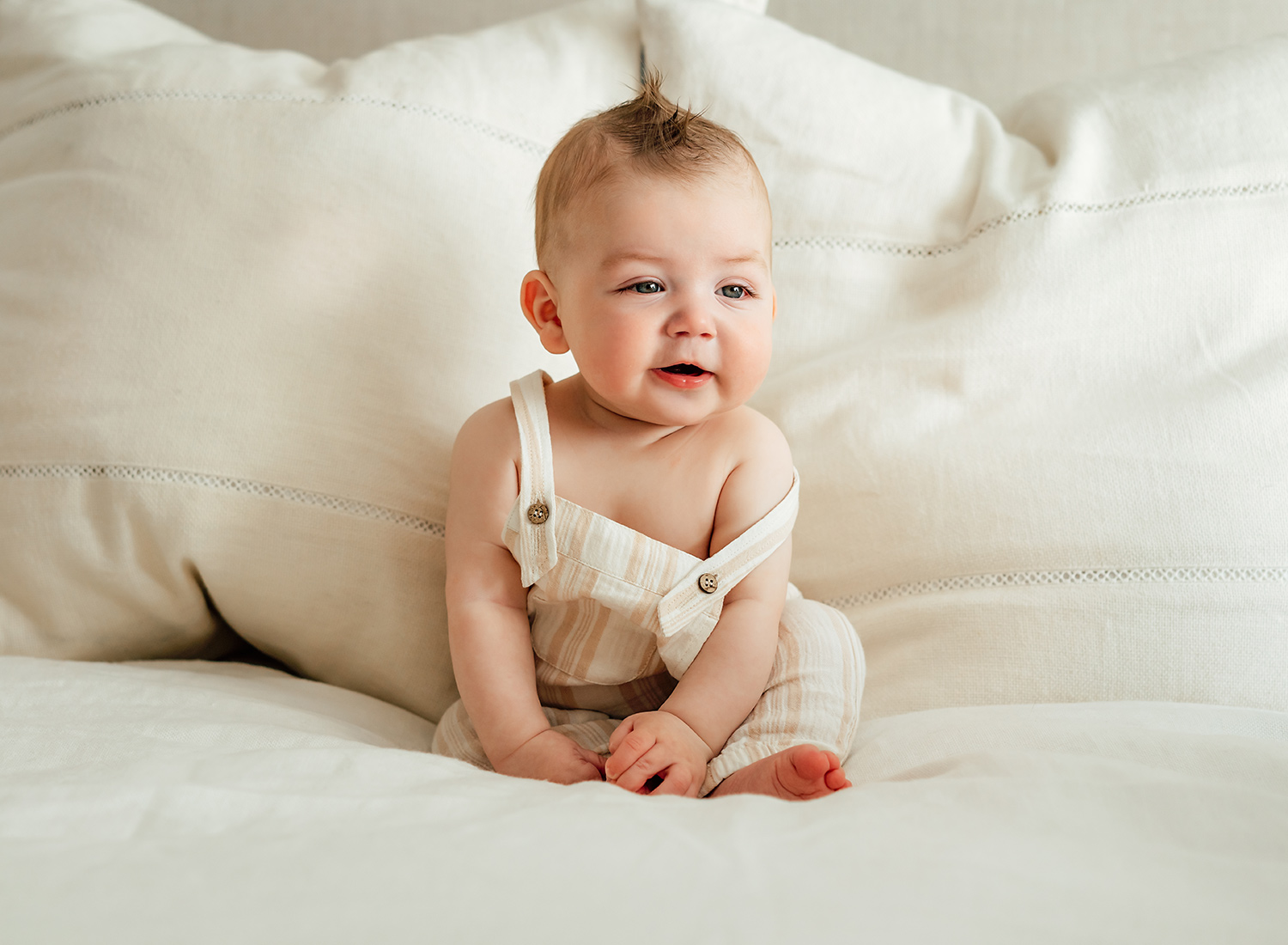 I also recommend having your baby's favorite comfort items readily available such as favorite blankets, bottles, toys, etc.
I like to end sessions with just diapers. It is such a great way to show off those adorable rolls and baby squish!